Services & Selection
Services
Carpet Cleaner Rental
Computer Paint Matching
Copier Available
Delivery Service
Fax Available
Fishing & Hunting Licenses
Gift Certificates
Glass Cutting
JustAsk Rental
Kerosene
Key Cutting
Lock Re-keying
Pipe Cutting & Threading
Senior Citizen Discount
Skate Shapening
Special Orders
Window & Screen Repair
Selection
Automotive
Doors & Windows
Electrical
Grilling
Hand & Power Tools
Hardware
Housewares
Lawn & Garden
Lumber & Building Materials
Outdoor Power Equipment
Paint Shop
Patio Furniture
Plumbing
Wallpaper & Home Decor
Local Ad
About Us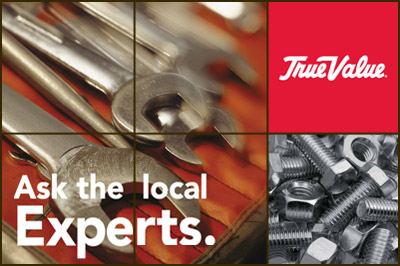 Behind Every Project is a True Value
Under the sink, against the wall and over the edge when it comes to home improvement?
You've come to the right place. Start your projects off right with quality tools, products and expert advice from our True Value Hardwarians. We have the know-how to answer your questions, assist with projects, and find ways to make your home maintenance and improvement ventures a whole lot easier. Whether you tackle projects weekly, monthly or yearly, True Value is your one stop destination for all your hardware needs.
Welcome to our site! The products we are offering here just begin to touch our huge inventory of in-stock items. Contact us for pricing on a full-line of building materials. Free quoting, free
delivery in specified areas and great service.
Rental
Samuelson True Value is a full line rental yard with construction equipment all the way to party supplies .
bobcat
bounce houses
Carpet Cleaning
Chipper Shredder
Cleaning Supplies
Compressors
Concession
Construction Equipment
Diamond Blades/Saws
DryWall Equipment
Earth Drilling Equipment
Floor Finishing Equipment & Accessories
Floor Nailers/Sandpaper
Generators
Groundscape Equipment
Hand Tools
Heaters
Heating / Cooling Equipment
Hose Repair
Lifts
mini excavator
Paint Sprayers
Photobooth
Plumbing
Power Tools
Pressure Washers
Pumps
Roofing
Safety items
Saws
Scaffolding
tables and chairs
Tents
Trailers , flat and dumpbed
Turf Equipment
Shop
Projects
Paint