Services & Selection
Services
Carpet Cleaner Rental
Chain Saw Sharpening
Computer Paint Matching
Copier Available
Delivery Service
Fax Available
Fishing & Hunting Licenses
Gift Certificates
Glass Cutting
Key Cutting
Pipe Cutting & Threading
Propane Exchange
Rental
Screen Cutting
Special Orders
Window & Screen Repair
Selection
Automotive
Cabinet & Door Hardware
Cleaning Supplies
Electrical
Gifts
Grilling
Hand & Power Tools
Hand Tools
Hardware
Holiday Decor
Home Storage
Housewares
Lawn & Garden
Outdoor Power Equipment
Paint Shop
Patio Furniture
Pet Supplies
Plumbing
Power Tools
Rental
Sporting Goods
Wild Bird Supplies
Local Ad
About Us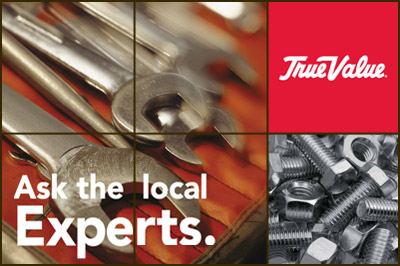 Behind Every Project is a True Value
Under the sink, against the wall and over the edge when it comes to home improvement?
You've come to the right place. Start your projects off right with quality tools, products and expert advice from our True Value Hardwarians. We have the know-how to answer your questions, assist with projects, and find ways to make your home maintenance and improvement ventures a whole lot easier. Whether you tackle projects weekly, monthly or yearly, True Value is your one stop destination for all your hardware needs.
Family owned and operated, LeRoy True Value was opened in August of 2001. After adding on twice, we are still going strong, and will continue to provide our community with great customer service and quality products.
Rental
Why buy it when you can rent it? Before you tackle that big, weekend project, be sure to visit your local True Value Rental store first. Make us your first step because we'll help you find the professional-quality tools and equipment you need to do your project like a pro. Not sure what you need? Not to worry. Our experts will help you every step of the way. So turn to us first and we'll help turn your plans into a success. Buy what you want. Rent what you need from your nearest True Value Rental Store.
Beverage Equipment
Buffet
Carpet Cleaning
Compressors
Concession
Concrete Tools
Construction Equipment
Cooking Equipment
Décor
Diamond Blades/Saws
DryWall Equipment
Earth Drilling Equipment
Floor Finishing Equipment & Accessories
Floor Nailers/Sandpaper
Furniture & Floor
Gas and Propane Refill
Generators
Groundscape Equipment
Hand Tools
Heaters
Lawn & Garden
Moving/Shipping Equipment & Supplies
Plumbing
Power Tools
Pressure Washers
Pumps
Saws
Scaffolding
Tents
Turf Equipment
Projects
Paint
Used Equipment FOR SALE