Services & Selection
Services
Blade Sharpening
Carpet Cleaner Rental
Chain Saw Sharpening
Computer Paint Matching
Copier Available
Delivery Service
Fax Available
Gift Certificates
Glass Cutting
Key Cutting
Knives & Scissors Sharpening
Lock Re-keying
Lumber Cutting
Pipe Cutting & Threading
Pool Water Testing
Power Tool Repair
Re-keying Locks
Rental
Screen Cutting
Small Engine Repair
Soil Testing
Special Orders
Window & Screen Repair
Selection
Automotive
Building Materials
Cabinet & Door Hardware
Cleaning Supplies
Electrical
Farm Supplies
Gifts
Grilling
Hand & Power Tools
Hand Tools
Hardware
Holiday Decor
Home Storage
Housewares
Husqvarna
Lamination
Lawn & Garden
Lumber
Lumber & Building Materials
Outdoor Power Equipment
Paint Shop
Patio Furniture
Pet Supplies
Plumbing
Power Tools
Rental
Retaining Wall & Pavers
Sporting Goods
Stihl
Toro
Wild Bird Supplies
Local Ad
About Us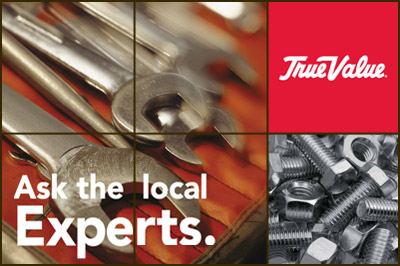 Behind Every Project is a True Value
Under the sink, against the wall and over the edge when it comes to home improvement?
You've come to the right place. Start your projects off right with quality tools, products and expert advice from our True Value Hardwarians. We have the know-how to answer your questions, assist with projects, and find ways to make your home maintenance and improvement ventures a whole lot easier. Whether you tackle projects weekly, monthly or yearly, True Value is your one stop destination for all your hardware needs.
Allendale True Value has been locally owned and operated since 1992. We were blessed enough to build a new store in 1997, finishing construction and opening for business in February 1998.
Now, prepare yourself for the token "big sell". If you're an existing customer, there probably isn't a need to read further – you already know about our great service & expertise. Feel free to gloss over this section, and browse the rest of our website at your leisure.
Here at Allendale True Value, we pride ourselves on:
Service
We offer friendly, down-home service. In many of the big-box stores (and other businesses, as well), "customer service" is simply lip service – not the case here! You'll see many of the same friendly faces, visit after visit. We are confident that you will receive the answers to your questions, and help with your project – no matter how big or small – from start to finish.
If you are not 100% satisfied with our service, please let someone on our sales team know. Quality service is one of our biggest priorities!
Selection
We are your "Total Source" Destination.
We carry a wide range of quality products & brands. In addition to the product we carry in-store, we can special order thousands of other items – try us! We receive orders twice a week, and in most cases, can receive special-order items within 48 hours. We can also offer discounts on special-order items, in many cases. Give us a try for that specialty item you're looking for.
Expertise
We are continually training our staff on new products, methodologies, and relevant certifications. We have answers to your project questions. If, for some reason, we don't have an answer, we'll definitely get one for you.
Still reading? You're clearly a hard sell.
Before filling up that gas tank and heading off to one of the big box stores, stop into the store, call or e-mail to ask us about the item(s) you're looking for. Let us show you the service you're reading about. Did you find that item (same brand & model) priced lower somewhere else? Please let us know. We appreciate your feedback on competitive pricing, and review our prices regularly.
Credit Application (In-house Accounts)
If you're interested in establishing a business credit account with Allendale True Value, print, fill out & submit this Credit Application (PDF format).
Employment
If you're interested in joining the Allendale True Value team, print, fill out & submit this
Employment Application
(PDF format). If we don't have a position currently available, we will retain applications for 6 months, and will review them if/when a position becomes available.
Rental
Shop
True Value Rewards

Get rewarded for a job well done!
It's easy! Just become a True Value Rewards member and watch your projects pay off. Check out the benefits:*

Earn points with each purchase.

Receive $5 for every 2,500 points.

Members-only offers throughout the year.

Earn points for ship-to-store purchases.
* Go to TrueValueRewards.com for terms and conditions. Stores reserve the right to change the program structure.
Projects
Paint
Store Information
Recommended Contractors