Services & Selection
Services
150 Years Worth of Expert Advise!
Authorized U-HAUL Dealer
Carpet Cleaner Rental
Computer Paint Matching
Delivery Service
Free Estimates
Gift Certificates
Gift Registry
Gift Wrapping
Glass Cutting
Key Cutting
Lay-A-Way
Lock Re-keying
Pipe Cutting & Threading
Re-keying Locks
Rental
Screen Cutting
Sewer Cleaning
Special Orders
Water Heater Installation
Window & Screen Repair
Selection
Automotive
Building Materials
Cabinet & Door Hardware
Cleaning Supplies
Electrical
Farm Supplies
Gifts
Grilling
Hand & Power Tools
Hand Tools
Hardware
Holiday Decor
Home Storage
Housewares
Lawn & Garden
Outdoor Power Equipment
Paint Shop
Patio Furniture
Pet Supplies
Plumbing
Power Tools
Wallpaper & Home Decor
Wild Bird Supplies
Local Ad
About Us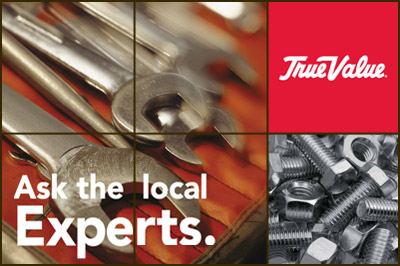 Behind Every Project is a True Value
Under the sink, against the wall and over the edge when it comes to home improvement?
You've come to the right place. Start your projects off right with quality tools, products and expert advice from our True Value Hardwarians. We have the know-how to answer your questions, assist with projects, and find ways to make your home maintenance and improvement ventures a whole lot easier. Whether you tackle projects weekly, monthly or yearly, True Value is your one stop destination for all your hardware needs.
Newton's True Value Hardware was started in 1924 by Earl and Grace Newton. 4 generations later of being strictly family owned and operated, Joe Long, grandson of Earl and Grace, now serves as Owner and President of Newton's.
Since starting from those humble beginnings in the 20's, Newton's now employs 15 full and part time positions. All together Newtons has just under 150 years of total experience in the hardware industry on any given day you walk in the store. Of these employee, several have worked to earn many outstanding achievements and accomplishments. Among them are several of the following examples;
Megan Menzer was honored by receiving the National Retail Hardware Associations (NRHA) Young Retailer Of The Year award in 2005. Megan was selected out of every hardware store in the United States and Canada to win in her division.
Megan, Annie Etchyson and Jaylene Hicks graduated from True Values Paint School in 2007 to provide excellent knowledge to better assist consumers in their painting and DIY projects.
Joe, Megan and Janet all graduated from NRHA's advanced course in Hardware Retailing.
As well as these individual accomplishments, Newton's True Value has been locally recognized as well as Nationally for their efforts.

Newton's was awarded the inaugural "Business of the Month Citation Award" by the Cherryvale Chamber of Commerce in January 2009.
Newton's was awarded "2009 Business of the Year" by the Chamber of Commerce as well.
The store was featured in the August 2008 issue of True Value Members Magazine for their community minded approach to doing business.
Shop
True Value Rewards

Get rewarded for a job well done!
It's easy! Just become a True Value Rewards member and watch your projects pay off. Check out the benefits:*

Earn points with each purchase.

Receive $5 for every 2,500 points.

Members-only offers throughout the year.

Earn points for ship-to-store purchases.
* Go to TrueValueRewards.com for terms and conditions. Stores reserve the right to change the program structure.
Projects
Paint