Services & Selection
Services
AT&T Telephone Center
Carpet Cleaner Rental
Chain Saw Sharpening
Computer Paint Matching
Copier Available
Delivery Service
Fax Available
Glass Cutting
Kerosene
Key Cutting
Knives & Scissors Sharpening
Lamp Repair
Lock Re-keying
Locks Keyed Alike
Pipe Cutting & Threading
Propane Exchange
Rental
Special Orders
Volume Discounts
Window & Screen Repair
Window Shades Cut
Selection
Automotive
Cabinet & Door Hardware
Commercial Sale Division
Electrical
Faucets & Bath hardware
Grilling
Hand & Power Tools
Hardware
Housewares
Lawn & Garden
Lumber & Building Materials
Outdoor Power Equipment
Patio Furniture
Plumbing
Woodworking Tools
Local Ad
About Us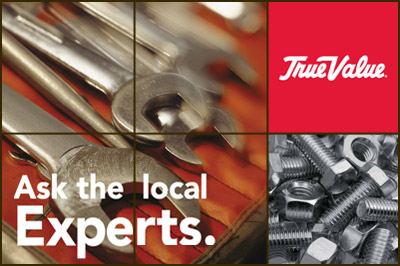 Behind Every Project is a True Value
Under the sink, against the wall and over the edge when it comes to home improvement?
You've come to the right place. Start your projects off right with quality tools, products and expert advice from our True Value Hardwarians. We have the know-how to answer your questions, assist with projects, and find ways to make your home maintenance and improvement ventures a whole lot easier. Whether you tackle projects weekly, monthly or yearly, True Value is your one stop destination for all your hardware needs.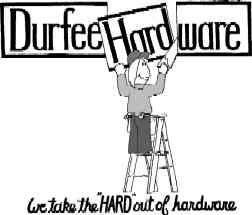 We are a family-owned hardware store, helping Rhode Islanders for the last 85 years. Stop by to experience good old fashioned customer service, expert advice, and an extensive selection of high quality items you actually need.
Durfee Hardware has the feel of an old time hardware store and because of its affiliation with True Value Hardware can provide great merchandise selection at competitive prices. Our hardwood floors, tin ceilings, hand-made bins for nails and brass cabinet hardware, a second floor devoted exclusively to power and hand tools along with the staff to answer any questions makes for an authentic hardware store experience. Enjoy browsing a "real" store without getting lost or ignored in the cavernous size of a national chain store. Touch the product you'd like to buy rather than looking at a picture and paying huge shipping charges like you do with the web. It is more personal than most shopping experiences you have these days. Paul Durfee, the owner, works right alongside his knowledgeable staff to ensure that the service and advice you receive is top notch!
We've been around so long that we stock things that other stores don't. Our customers say "if Durfees doesn't have it, you don't need it". While many people visit us for hard to find items or decorator items like cabinet, bathroom, and lock hardware, there is no reason why you shouldn't visit Durfee's regularly. In addition to the specialty items we have all the items you need around your home on a regular basis. Cleaning products, flashlights, batteries, light bulbs, garbage bags, vacuum bags, leaf bags, etc......
Rental
Call to confirm the availability of a particular item before you arrive so that you are sure to get what you need. Our rental policy is straight forward. The equipment priced per day and is due back at the same time you rented it on the following day. The one exception to that rule is if equipment is rented out after 4 PM on Saturday, it is due back before 9 AM on Monday. Good Luck on your project!
True Value Rewards

Get rewarded for a job well done!
It's easy! Just become a True Value Rewards member and watch your projects pay off. Check out the benefits:*

Earn points with each purchase.

Receive $5 for every 2,500 points.

Members-only offers throughout the year.

Earn points for ship-to-store purchases.
* Go to TrueValueRewards.com for terms and conditions. Stores reserve the right to change the program structure.
Projects
Paint
General
Take A Virtual Tour
Corporate Sales
Durfee's News